There is No Place Like Home
Do you Feel at Home?
In Your Relationship? Your Work? Your Body?
In Your Place in the World?

---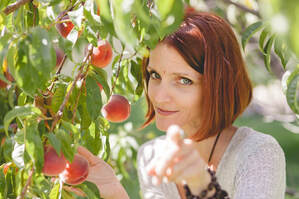 Home is a term that denotes feeling comfortable, behaving naturally and feeling sure of the space and condition in which you find yourself.

Everyone wants to feel like they are home - it is a feeling which allows a person to express their most authentic self without difficulty and to interact with those around them with the most ease and confidence.

If one doesn't feel at home - something is stifled -something is missing...and the search begins to find the sense of home once again.
​How does not feeling at home feel?

In your body? In your relationships?....In your work?....In the world?

My name is Stasia Bliss. I am all about feeling at HOME wherever I am, whatever I am doing. I also believe that HOME is a state of mind, an understanding about the universe and an acceptance of one's self at a deep, core level. It is hard to feel at home all the time, especially given the circumstances we often find ourselves in - in the World, in our Relationships, in our bodies. My goal is to help you identify what is keeping you from feeling at home, from feeling natural, from feeling like you can be authentic - and then helping you jump the hurdles, embrace the healing, do the work - so you can find home wherever you are - as soon as possible!

I work with Men, Women and Children.
My work is Empowerment - from the level of uncovering Authenticity.
I embrace all paths to truth - and all modalities which may assist you in reaching HOME in yourself again.

My story?
I grew up feeling very much at home. I was raised in an extremely religious setting with lots of rules, expectations and beliefs - constantly flooding me and telling me what to think, feel and how to act. ... the surroundings that were created for me I later looked back on as fake, inauthentic and programmed. I spent many many years unwinding and de-programming myself learning the secrets of the universe through mystery schools and spiritual traditions around the globe learning such philosophies and practices such as Tantra, Yoga, Egyptian mysticism, Essence teachings, and Native Shamanic traditional wisdoms. I deeply explored the teachings of Plant medicines through both the study of herbalism and essential oils as well as through the deep shamanic, soul-searching practices of ritual with such plants as Ayuhuasca and pysilocibin . I complemented my esoteric studies through scientific and experiential study in psychology, dream-work, alchemy and the subconscious mind. I taught yoga for 12 years and worked with men, women and children through the process of breaking down social conditioning and psychological blocks in order to reach a healthier space of authenticity and bliss. I believe my story roots much deeper than my capacity to share - it reaches back into lifetimes and through the DNA offerings of my ancestors. I believe I was encoded with this work - to help humanity find HOME in their skin and manifest Heaven in it.

Your story?
Everyone has a story - it is comprised of this lifetime as well multiple layers of reality and ancestry. Whatever you are manifesting in your life now is based off of your personal story. If you don't like it - if you don't feel "At Home" - you can always shift the story, change it, wipe it clean and start a new....When you know what you want you can obtain it ....but often, you don't know what you truly want until you clear all that clutters your authentic self.

I call this work - "Coming Home."

----------------------------------------------------------------------------------------------------------------------------
One of my first practices in truly coming home - was to enjoy something fully that I had often kept from myself out of guilt - - that gift was Chocolate - and I wrote a book on it...
​Wherever you are in your path - I recommend starting with a Chocolate Fast...the fastest way to remember your Divine Bliss and Align with it.
If you don't love chocolate - use something else you truly LOVE and yet keep at an arms length. Follow the protocols in the text below - and we are on a roll!
---

The Chocolate Fast: Embracing your Bliss one Truffle at a time! ~
Have you ever felt like you held your bliss away from yourself, as if you were somehow undeserving? Much like you might do with your favorite dessert? In this book we explore what happens when you allow yourself to surrender to something you love - such as chocolate - yet limit yourself normally. In this case, I walk you through a "chocolate fast" - eating your favorite chocolate treats only for 24 hours along with various activities, meditations, etc. If you are not a big chocolate fan, it doesn't matter...it is only a metaphor for bliss... choose something you totally love - and use that for the fast. You will be amazed how the simple act of surrendering to your Bliss will open doorways before only hidden and closed to you! Go ahead - embrace your Bliss - you deserve it!
---
What people are saying about The Chocolate Fast book/experience:

"This book TRANSFORMED my life in one day! A friend of mine Sara, gave me a copy and it sat around for quite a while before I came to relish it! Creating more Bliss ... is contained within!!" ~ Morgine Jurdan

"Stasia Bliss is an amazing being filled with inspiration and knowledge...this book is phenomenal!"
~ Brian James Lucas aka Chef BeLive personal chef, raw food educator/author

"Whimsical! Delicious! Outrageously Blissful! The Chocolate Fast blew my mind....it's so much more than just a fast....Allow yourself to get lost in this experience..." ~ Kimberly Riggins - Founder/Creator The Art of Eating Chocolate Naked


"The Chocolate Fast is an exquisite and imaginative guide for both the purposeful expansion and diliberate unraveling into one's own Divinity. The author gracefully articulates how to live consciously from a state of pure, unadulterated, chocolate-covered joy. An elegant feast for the mind, heart, body, soul, and of course, the taste buds." ~ Cilette Swan - vocalist Gypsy Soul

"Stasia has a beautiful relationship with chocolate. This book is a permission-slip to live your life in delicious Bliss...it's your birthright!" ~ Lulu of Lulu's Chocolate Alchemy
- I have literally logged Hundreds of on-line articles on a variety of subjects - including Natural Health, Metaphysical Science & Consciousness
HERE
- on The Guardian Liberty Voice where I was a Journalist bring a new voice to a Newspaper platform. I hope you find a nuggest that inspires you to your Bliss!
---