---
Language Empowerment

The words we speak and use regularly become the literal "spells" we cast over our reality. It's not called "spelling" for nothing.
By becoming aware of how we speak and how we "language" our world, we can empower a new reality just by altering a few things.
My job is to LISTEN to you and what is going on in your life and to bring attention to where you are disempowering your reality through your individual languaging. It is often easier for someone else to hear and point out where we are limiting ourselves with our words - that's my speciality. I can hear it.

If you would like to empower your life just by altering your language a bit - I offer language empowerment sessions, usually in 3 or 6-session packages so we can watch the transformation take place. How this works?
1- We schedule an inital call where you tell me about your life, what is working and not working for you. I listen, take notes and begin to point out where I hear limiting wording and beliefs. I give you key phrases and affirmations to use to counter the disempowering language I hear.
2- I offer you powerful subconscious pattern-changer practices to help you break these cycles from a deep-core level
3- We do a second call to check in on the process and move a bit deeper into where your languaging is stemming from. This may include doing some field tuning practices to relieve you of old trapped emotions or other inhibiting factors. We add in new assigments for renewed and empowered language and we schedule the third appointment.
4- In session three it is determinable if we have reached a more empowering space together with the language you are using or if we need to go into another round of sessions and address deeper layers.
**All sessions include exercises, prominent language evaluation and step by step support.

Rates start at $188 for 3 sessions and slide based on the depth we need to go.

---
​

Language May Contribute to an Immortal ExistenceTo many, immortality and eternal life sound like a tortuous idea of life-extension with no known escape, for others – it answers the long held belief in something thought possible in the quiet spaces of the mind, yet never vocalized for fear of ridicule. There is one factor that may be crucial in the discussion of eternal life and longevity- and that is the way we speak. Our languaging may contribute to the experience of an immortal existence based on the premise of quantum and meta-physics.

---

Using Language to Awaken & EvolveWords, letters, sounds, sentence construction, intention, body motion and emotion…all aspects of communication. Language can bring people together or separate them instantly. The way we incorporate and 'use' words tells much of our state of consciousness and the perspective we see the world from. Often, those who seem to use 'advanced language skills' come across as intimidating to those who use words of 'lesser influence' and by the same token, oft we are 'put off' by people who we think are 'using' language to speak 'above' us. Can we use language as a tool to awaken our capacities further and even evolve – as did our ancient ancestors who first 'invented' the form of communication we are so familiar with today?

---
---
Inspired

Admired by the air around me
Enveloping my form
Warm to the thoughts of loves magical fondling
In the occasion of this Now
How I wondered, wandered, endlessly it seems, down the path
of my own Remembering
Dis-membering myself from a paradigm of Separation and Regret
Forgetting Fear~
Dear friend of the past
At last, we have found a loophole in the program of lies
Cries from the original thought -
Shattered the universe of false making to find
Remind
of this one thing only

Love
---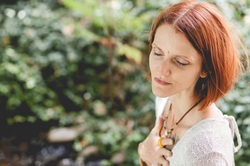 Merging with Infinite presence
Vibrating with peaceful resonance
All life takes on new reverence
Forgetting gives heed to remembrance
---
Blissful Musings: A Lyrical, Cosmic Dance of Embrace
~
This is my poetic expression of consciousness dancing with itself. I have long loved writing poetry. In this, my first published edition of poetry, I explore the dichotomy of unity consciousness and the duality we live in...knowing the self as the One dancer...and the song being played. I believe you will find joyful resonance with these poems and find the thread which connects us all together in the Oneness...as I pluck this thread with word and rhyme. This edition also contains my own color photographic images of nature and beauty as I see the world. (Video of one of the poems found inside - read below)
Poetry reading from the book:
---
---
Personalized Poetic Downloads - $55
I offer personalized poetic channels/downloads for YOU and your transformation process.
What this entails:
A 30 minute phone call with you - where I LISTEN to what is going on for you without interuption.
Then - I sit with what you have brought me and bring through a poem or piece of prose for you to assist and supercharge your process. <3
These sessions have been incredibly powerful. I look forward to hearing from you!

Send me a message at: Stasiabliss@gmail.com to schedule your call
​ Numerous articles on:
Ayurveda, Yoga, Mediation, Food, Crystals, Relationship and more
on
Basmati.com
---
Podcast/Broadcasts on Personal Empowerment & Consciousness on Spreaker - HERE
.
---
I am also Available for Public Speaking events & Workshops
Empowerment Dis-Covered
Embracing Bliss as Our Birthright
Emotion Code & Essential Oils
Redefining Relationship
Create Your Life (Not Just Babies) Embracing Sexual Empowerment
Authenticity - The World Needs Exactly What You Are
Prices for speaking engagements Vary.(Travel expenses may apply)